Carmen Fiol Costa lecture the 19th May in the University of Tasmania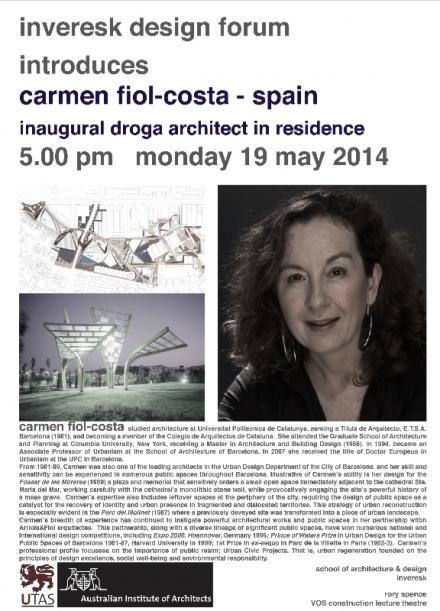 Following her tour around Australia, Carmen Fiol arrives to Tasmania. Carmen Fiol will participate in the Bruny Island Utzon Series, organized by Architecs Tas, in the school of Architecture of the University of Tasmania. The lecture is part of the Laminex Speaker Series, introduced by this short message:
The first Droga Architect in Residence, an architect, urban designer and landscape architect, the co-founder of Arriola & Fiol Arquitectes in Barcelona. 
An integral holistic approach is proposed where city forms part of landscape and buildings and open space have the same value. New projects will build continuity with the existing fragments of urban elements and provide density to transform unconnected objects into a sculptured territory.
Â
Monday, 19 May 2014 5:00 PM (AEDT), 8 Invermey Road, Launceston, Tasmania 7248
Tags: 2014, Carmen Fiol, Droga Architect in Residence, Lecture